please find in annex othe PDF of the speech of Vincenzo Valenzi, Deep Sing, Sudir Bagga ,Allan Widom and Madan Thangavelu that will speak on «The enigma of human intelligence and its regulation in eccles psychons theory and chakra traditions (Anatomophisiology and quantum chemistry hipotesis of some Old way to manage stress till panic attack)»
Waiting for your criticism and suggestion

UP DATE PROGRAM COHERENCE 2022 ON BENVENISTE BOOK LA MIA VERITA' SULLA MEMORIA DELL'ACQUA
pls find in annex the last 4° draft of the COHERENCE 2022 .
This controversial themes was discussed in the last week in Kiev in THE CARDIONEUROLOGY CONFERENCE held in Kiev 1 and 2 November, see program materials and video in the link www.iiimb.me, and in New York in the Saint John Fisher University, in the frame of event of NADI WATER lead by dr Deep Singh and prof. Robert H. Rice, Jr., Ph.D., LMHC
HRSA BHWET Integrated Care Project Director.
Of course we must remember that AN AWARD BENVENISTE WAS HELD IN THE INTERNATIONAL CRIMEAN CONFERENCE COSMOS AND BIOSPHERE, where this matter in matter for basic and applied research and for academic career https://www.vglobale.it/?s=cosmos+and+biosphere+ .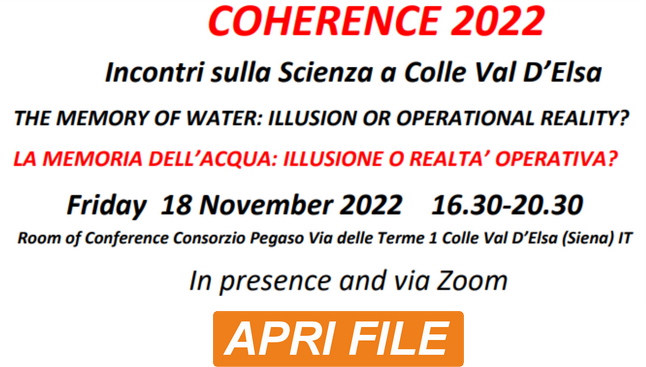 DA GRAZ A COLLE VAL D-ELSA A KIEV LA PARTITA DELLA SCIENZA CONTINUA OLTRE I CONFINI .....
Mentre i primi freddi spaianano la strada a virus vecchi e nuovi, che fortunatamente si confondono sempre di piu' tra loro anche se pare che si insista in campagne che hanno purtroppo dimostrato i loro limiti di efficacia e di sicurezza https://www.cimb.me/covid-19.html,
Il 18 novembre venerdi a Colle Val D''Elsa questo tentativo di integrazione continua con il dibattito sulla MEMORIA DELL'ÄCQUA che e'stato al centro di una vera e propria guerra dell' ácqua come raccontato nel volume di Benveniste che e' uscito aalla seconta edizione per i tipi di MACROEDIZIONI.
Interverranno fisici chimici e biologi da Mosca da Roma da Cambridge a Milano e Prato, che discuteranno SULLO STATO DELL'ARTE DELLE TECNOLOGIE E DEL FUTURO DI QUESTA CONTROVERSA PARTE DELLA SCIENZA CONTEMPORANEA . (Programma allegato).
Dopo le 2 giornate di CARDIONEUROLOGIA DI KIEV DI CUI TROVATE I VIDEO E IL NOSTRO INTERVENTO QUI https://www.cimb.me/index.html , il 7 e 8 dicembre sara' in scena il mondo dell'intelligenza artificiale che si incontra a KIEV e dove porteremo un contributo sui meccanismi di regolazione dell'intelligenza umana dalla teorie dei psiconi di Eccles alle tecniche dei chakra di origine indiana https://www.cimb.me/files/aaa-DOC-20221114-WA0001.pdf
Dal Central Park di Prato Vincenzo Valenzi
INTEGRATA E BIOFISICA
di fìrenze,
www.cimb.me
Federiciana Università Popolare
www.unifeder.it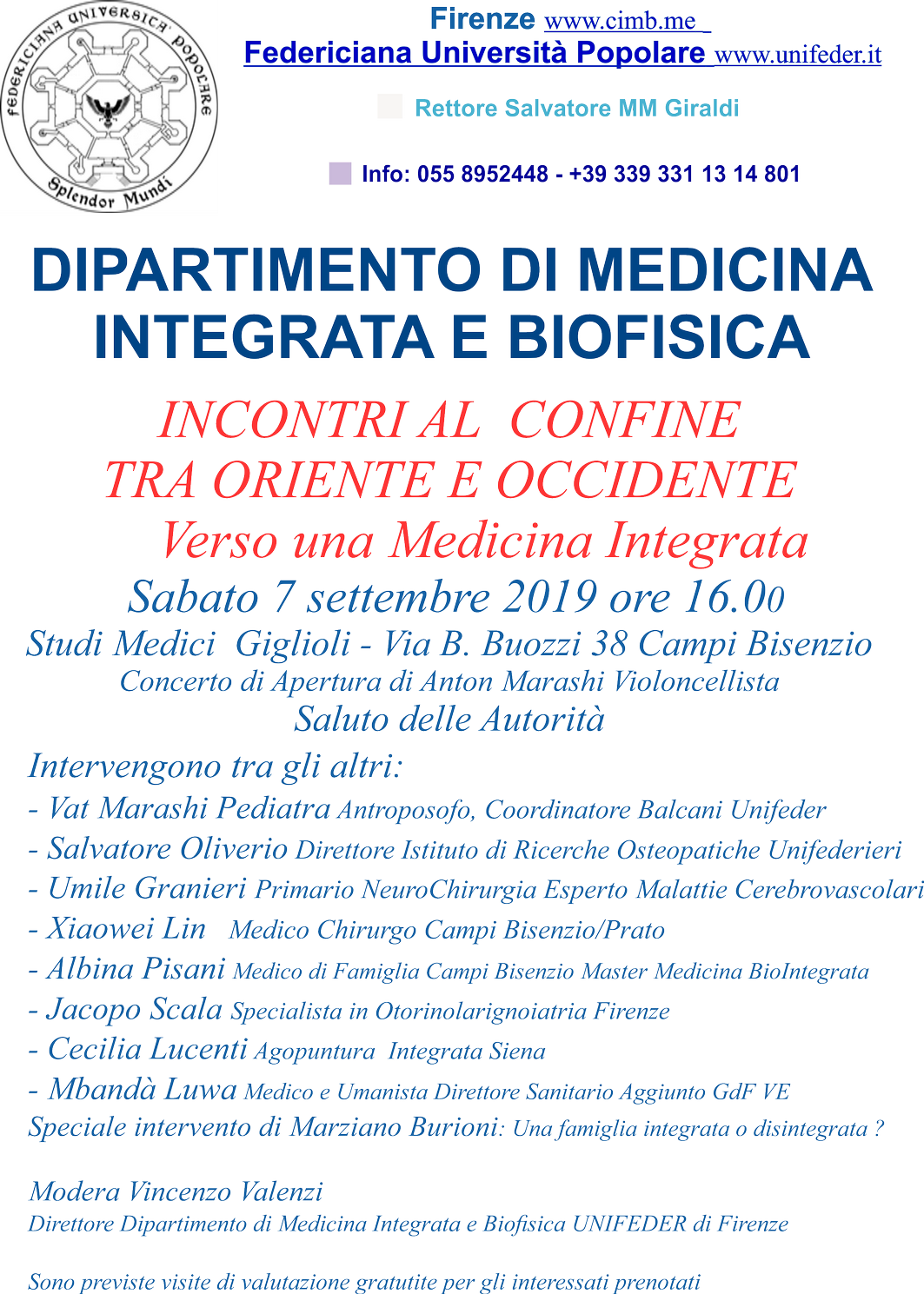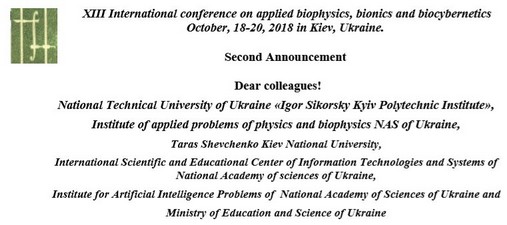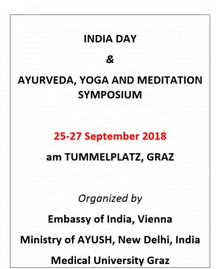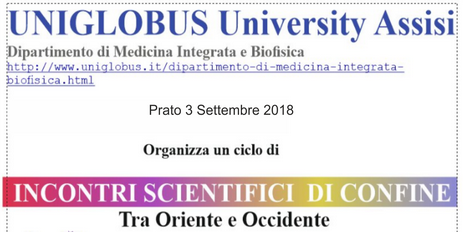 Da
Kiev 18/10/18
- Villaggio Globale
Sui passi di Mendeleev la ricerca biofisica va avanti. La tre giorni ucraina verso la conclusione.
Pharmacoelectrodynamics to PKI Conference in Applied biophydics
Look and see in parabolic fligth and space station. Intervento VALENZI 1° parte
Intervento VALENZI 2° parte
-------------------------------------------------------------------------------------------------------
LA TERAPIA DI PRECISIONE FARMACOELETTRODINAMICA QUI E ORA
Un caso clinico complesso di artrite psoriasica e ipertensione arteriosa trattato con FED
INCONTRI SCIENTIFICI DI CONFINE TRA ORIENTE E OCCIDENTE
Terapia di precisione farmacoelettrodinamica
Un caso clinico di artrite psoriasica e ipertensione essenziale